It is almost here, the day I take my youngest son to Birmingham Southern College to start his college career. It's not that I want to get rid of my son, it is because I can't wait to organize his dorm room. I'm convinced that my son would be completely lost without me, as it seems I'm the only one who cares about how his dorm room looks. He hasn't even given any thought to things like hangers, pillows and rugs – I'm almost convinced that he doesn't realize he's going to live on his own. Either that or he doesn't care about things like rugs, which he obviously should. If you or your child is moving to college soon and is in need of some decor items, having a look at a link like https://info.bazaarvelvet.com/rug-design-guide-how-to-choose-a-luxury-rug could set you on your way to a much more welcoming college dorm. There has always been a stereotype that college dorms are always dim and not a very nice place to live. I think we've found a nice dorm but that doesn't mean that he won't be jealous of people who live locally or are a Cultural Care Au Pair because they get to live in nice houses close to the college instead of dorms. But I will do everything I can to make is dorm a nice place to live. Here are some organizing items that I found to maximize his space.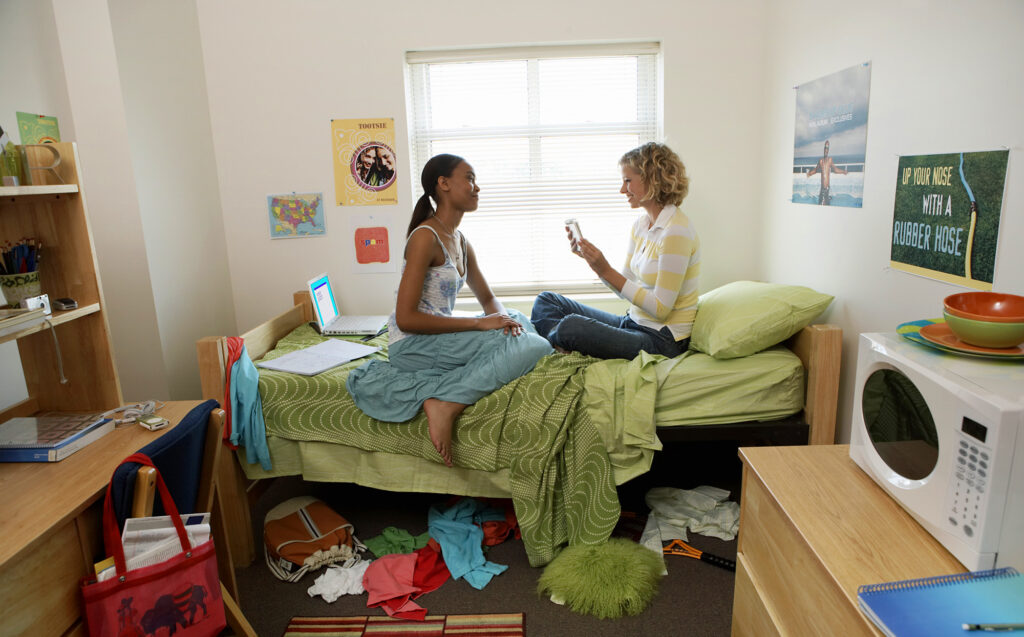 Under the Bed Storage – this can be for seasonal clothes or extra items that he might need. I got three boxes that will easily fit under a twin size bed. Check with your college housing to see what size beds they provide and if you will need bed lifts to maximize the space under the bed. Some schools bed frames can be turned upside down so you don't need lifts.
3M Hooks – many dorm rooms do not want you to put nails in the walls. These hooks are easy to install and easy to remove without leaving sticky residue. They come in all sorts of sizes and weight limits. It is always a good idea to have one by the student's desk to hang their keys on. Another hook can be for their backpack.
Over-the-Door Towel Bar – this over-the-door towel bar just hangs over the top of the door so no need for screws or nails. This rack has four bars so there is plenty of space for my son and his roommate.
Hangers – dorm room closets are so small you want to get the thinnest hangers you can find to get the most clothes hung in the space. I like the super slim plastic ones with the non-slip surface.
Double Closet Rod – closets are small so with this extra rod you are doubling your hanging space. Works great for guys – hang your pants on top and shirts on the bottom.
Laundry Hamper – I actually bought the x-large boat tote from LL Bean. It has large handles that make it easy to carry laundry to and from the washers and dryers. It is sturdy unlike some of the mesh laundry bags. This one is made of canvas and has a lifetime guarantee.
File Box – organized to hold important paperwork for classes as well as receipts and other financial papers.
Handheld Vacuum – great for keeping your room tidy and clean. Bissell's handheld vacuum cleaners are perfect for taking to college.
Other Items That You Might Want To Consider
Charging station for all of his electronics|Flexible power strip

Dry erase/cork memo board
Mattress protector
Mattress pad
2 sets of sheets
2 sets of towels
2 pillows
Comforter for bed
Throw blanket
Alarm clock (in addition to the alarm on his cell phone)
Trash can
Microwave
Laptop computer
Rug
Back Pack
School supplies
Gift cards to local eateries
Depending on the dorm room you may need some bathroom items like a shower curtain and bath mat.
This list should help you get your son or daughter off to college. Then you can start thinking about what you can do with their old bedroom!
Got questions? Contact Ruthann by clicking here.