Ready to reclaim your house from Christmas? This is your online instruction manual to get you started on the task of putting away Christmas. Do it now, and you will be pleasantly surprised when you go to access your holiday decorations next Christmas. Our five step process to an organized holiday:
Group your holiday items into categories
Obtain appropriate containers
Label containers
Number containers in order of use
Other great holiday organizing tips!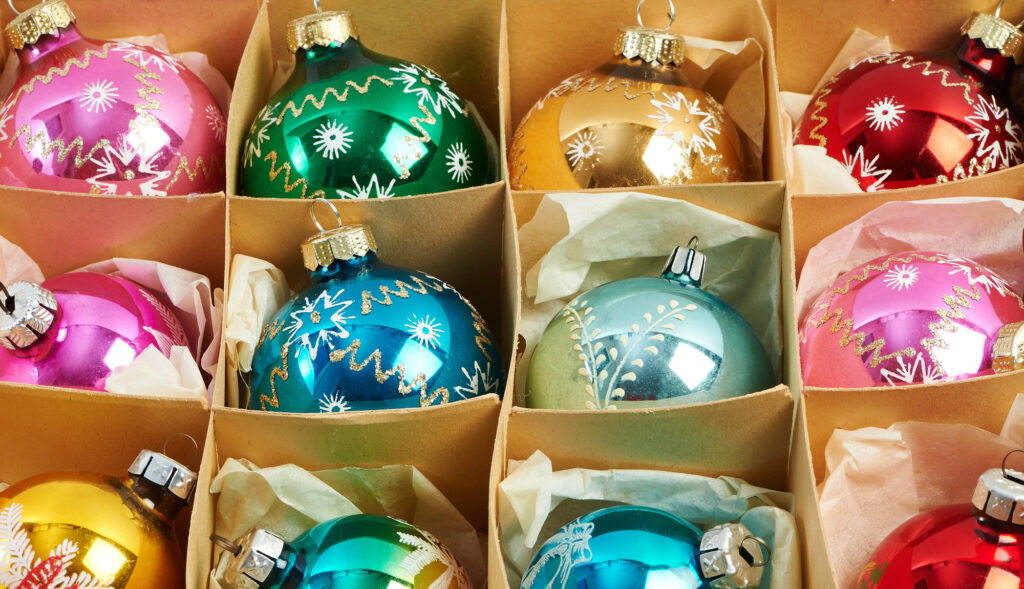 Group Into Categories
First, you need to come up with your broad categories for organizing your treasures. Remember you want to be able to find them easily next year so group them the way you think about your stuff. I have given you some suggestions below to help you get started.
Outdoor Decorations – these would include lights for outdoor trees, tree stands, spotlights, free standing decorations and wreaths
Indoor Tree Decorations – strings of lights, tree stands, tree skirts
Tree Ornaments – individual ornaments – hand made and purchased
Holiday Cards – addresses, new cards, old cards that have sentimental value
Decorative Items – things that hang on the wall (wreaths & pictures), things that are decorations for a room (bath, living room, bedrooms, dining room), things that have to do with food and entertaining (platters, dishes, glass ware)
Linens – bed linens, pillows, throws, towels for the bath, kitchen towels, table linens
Wrapping Items – paper, bows, ribbon, boxes, gift bags, tags, tape, scissors, pens
Children's Books – my kids are older now so we take them off the shelves during the year and store them with the holiday items. Next to Christmas cards this is the first box down from the attic.
NOTE: Don't pack something away that you no longer love. This is the time to weed out the decoration or other items that you no longer like or need.
Obtain Appropriate Containers
Secondly, once you have sorted and purged any items you no longer want you can now find the best container that would best suit your needs. You can choose boxes made especially for ornaments, wreathes, Christmas trees and gift wrap. Some of my clients prefer the solid red and green plastic containers that are easy to distinguish from their other storage containers. Others prefer clear so you can see what is inside the box. Others prefer to use the original packaging that trees and other decorations come in, in addition to plastic containers. It is entirely dictated by your preferences.
Label The Containers
Third, label your boxes on the outside with the broad categories. On the inside make a master list of the contents. It can be as specific as each item described or it can be as broad as you like. The point is to make it easy to find that special something when you are decorating next year.
Number The Containers
Fourth, number the boxes in the order that you will bring them out the next holiday season. For example Box #1 could be all the Christmas and Holiday cards because it is the first thing you do at the beginning of the season before you start decorating. Box #2 might be the tree lights, stand and other accessories.
Other Holiday Organizing Tips
Finally some other ideas to think about to help you get your Christmas and holiday decorations put away organized.
Consider getting rid of decorations that you no longer use or want. Why not share them with a relative or give them to a charity? Don't pack something away that you no longer love.
You don't have to decorate using everything every year. This year we had 2 indoor trees with different themes and colors of lights. Next year we might have something totally different.
Buy containers only after you know what you need.
Separate out stuff for your kids now and add to it each year. This way it won't be such an overwhelming task. When I got married my mom gave me the box of ornaments and Christmas decorations that were mine. She had started separating out my sibling and my ornaments when we were in high school. Included in this storage box was family heirlooms as well as all those things I made in grade school.
Make note of what you are missing and put this list in Box #1. That way at the beginning of next year you can take your list to the store and buy yourself a new star or string of light.
You don't have to do it all at once. Maybe this year take the time to sort and toss the strings of light. Next year you can be more ruthless with the ornaments.
Got questions? Contact Ruthann by clicking here.