Often we don't think of all our paperwork or on line documents until something happens and we need them. I have listed some important files that I think are important to have for someone else if they had to step in and help you. Whatever way you like to organize your important papers as paper files or scanned into the cloud or both here is a list of some important papers you should have ready just in case: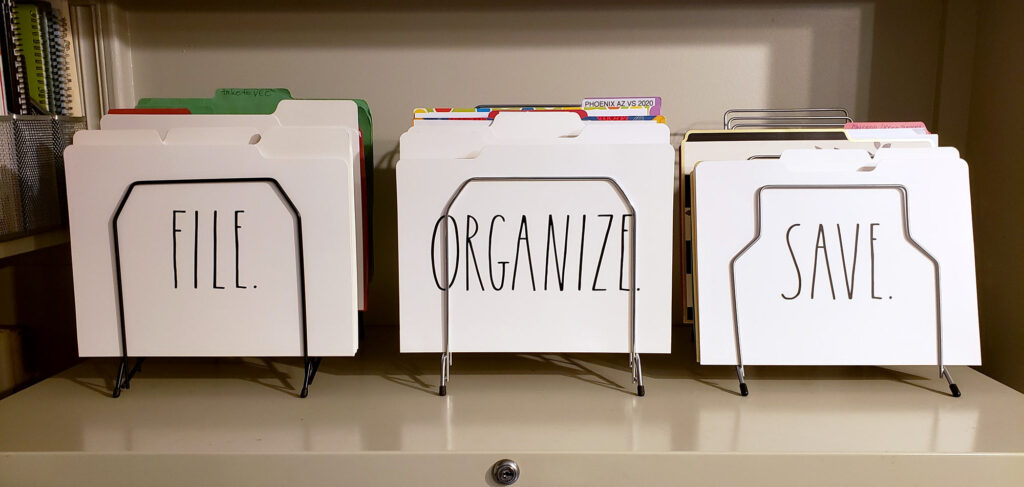 Wills, Trusts and Directives – this could be a Last Will and Testament, Revocable Living Trust, Irrevocable Living Trust, Living Will, Advance Directive and Do Not Resuscitate Orders.
Medical Information – one folder for each family member this can include medications taken, medical conditions, allergies and a vaccination record.
Personal Information – one folder for each family member to include things like a copy of passport, drivers license, birth certificate, social security card, marriage licenses, divorce documents, military papers, adoption documents, school transcripts/diplomas. Personally, I keep the actual document in a fire proof place or even off-site like a bank deposit box and only keep a copy in the file.
Insurance – the latest health insurance, Medicare, Vision, Dental and Supplemental insurance. I would also include Life Insurance, Disability and Long-Term Care Policies. Home owners, Renters insurance, car insurance and Umbrella Policies should also be easy to find.
Financial – While you may do all your banking on line and do not get a copy of any of the statements you might want to print at least one so that you can have all your account information. Things like checking and savings accounts, CDs 401K, IRAs, Pensions and other investments. This is especially helpful if you need someone else to know where all your money is.
Utilities, Monthly Bills and Automatic Debits – mortgage or rent, electricity, water, gas, telephone, internet, cell phone, cable, HOA fee, trash, fire, lawn services, annual termite and pest control.