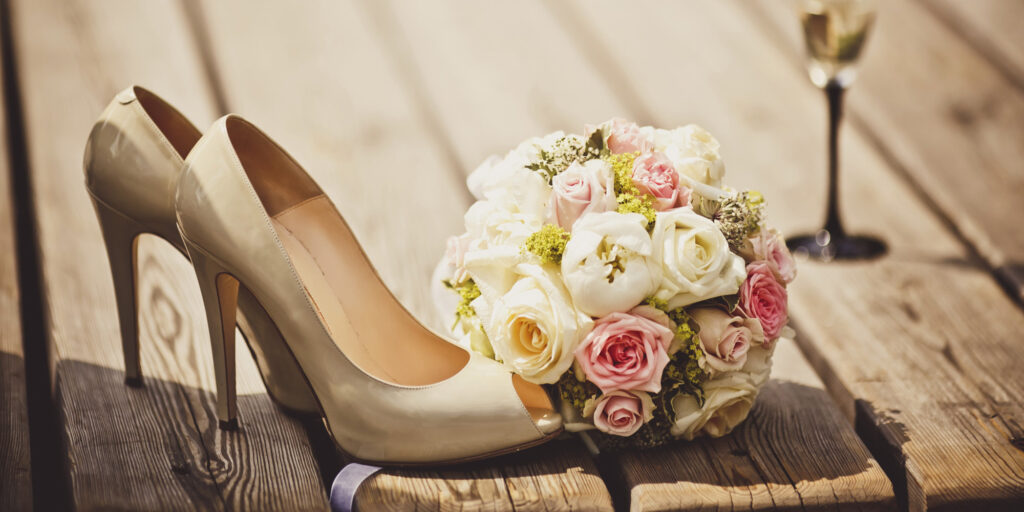 Enjoy the engagement period. Often people are rushing to plan the wedding that they forget to stop and enjoy this special time.
The first thing you need to do is decide on how much money you can spend on the entire wedding, reception and the honeymoon.
Second, look at all the money you could spend and elope. You can still have the reception and honeymoon without all the stress of the wedding. The benefit is that you now have a nice chunk of change for a down payment on a house.
If you don't want to elope, and it is going to be a big event, hire a wedding planner. They will save you time, money and embarrassment. They also will help you stay on budget.
Do you want to do it yourself? I strongly suggest buying a wedding planner at your local bookstore. Pick one that has the layout, style and topics that interest you most. If it is your second (or more) wedding you might have different needs than a first time bride. I liked Bride's Wedding Planner because of the checklists, charts, web site and schedules. Plus it opens up flat and had lots of helpful suggestions. For those who seek a fairytale destination wedding, a lot more planning is required. Ask your wedding planner for a list of Destination wedding venues based on your preferences and budget. You can even consider doing something a bit more different – sounds interesting right? Well just take a look for yourself at tipiunique.com website. If anything this will just give you some ideas about what you actually want for your wedding. It's not just about doing something different though, it's about what is best for you. So spend some time with your beloved and pick a destination which equally appeals to both of you. One thing you will want to think about is a timetable. This is a very basic timetable and most planners will have more details.
As Soon As Possible
How much money are you going to spend on the wedding, reception and honeymoon?
Who is going to pay for the above?
Determine how many guests you will invite.
What style wedding are you going to have – formal, casual, or a destination?
Who is going to be in your wedding party?
Hire wedding planner to help guide you through the process – remember this is someone who will help you with all the details. You will be talking to this person a lot and you will have to trust what she says so pick someone you can easily talk to and is on your side.
Send your engagement announcement to the newspaper.
9 to 12 Months Before
Pick the day, time and place.
Reserve wedding location and reception location.
Who will marry you and do you need to take any pre-marital classes?
Meet with your lawyer to write the pre-nuptial agreement (especially if this is not the first wedding in your life).
Book wedding bands for hire, florist, caterer and photographer. Get all contracts in writing.
Register at your favorite stores.
Shop for wedding dress, brides maid dresses, and mother's dresses.
3 to 6 Months Before
Purchase wedding rings.
Order invitations, announcement and thank you notes.
Book reservations for honeymoon. Check your passports to make sure they are valid (if you are leaving the country).
2 Months Before
Address and mail invitations.
Have wedding portrait made.
Get the name change forms for driver's license, social security card, bank accounts and credit cards. (Or make it easy and don't change your name).
Check local laws to see what you need for the marriage license.
Organize and purge the stuff you are taking to your new home. It's a good time to go through everything especially if you have both had a house prior to this marriage. You don't need two of everything so keep the newest, favorite or best of the kitchen items, linens and furniture.
One Month Before
Schedule the final fittings of dresses for the wedding party.
Finalize accessories for wedding dress (something old, something new, something borrowed something blue) and pick out the going away outfit.
Plan honeymoon wardrobe.
Buy gifts for bride and groom attendants.
Finalize all ceremony details.
Make appointments with hairstylist and manicurist.
One Week Before
Pack for the honeymoon.
Check RSVP's to see who is coming and give final count to caterer.
Have party for bridesmaids.
Break in your shoes that you will wear with your wedding dress. You don't want blisters on your big day.
Confirm all suppliers.
One Day Before
Get your manicure.
Hold the rehearsal and the dinner.
Go to bed early and get a good night's sleep (if possible).
Day Of Wedding
Eat breakfast and other meals you really don't want to be hungry.
Enjoy!
Got questions? Contact Ruthann by clicking here.