One thing I really love is paperwork. I guess it will come as no surprise to you to tell you that I am already working on my taxes for 2018.
I love the idea of a fresh start and I love cleaning out my files. The best time to do this overhaul is when you are pulling out information for your taxes. It's like getting 2 things done at once – cleaned out files and tax papers organized. I am always amazed at how much has happen – like the tree falling on my house and the yearlong repairs – to donations I made at the beginning of last year that I have forgotten about.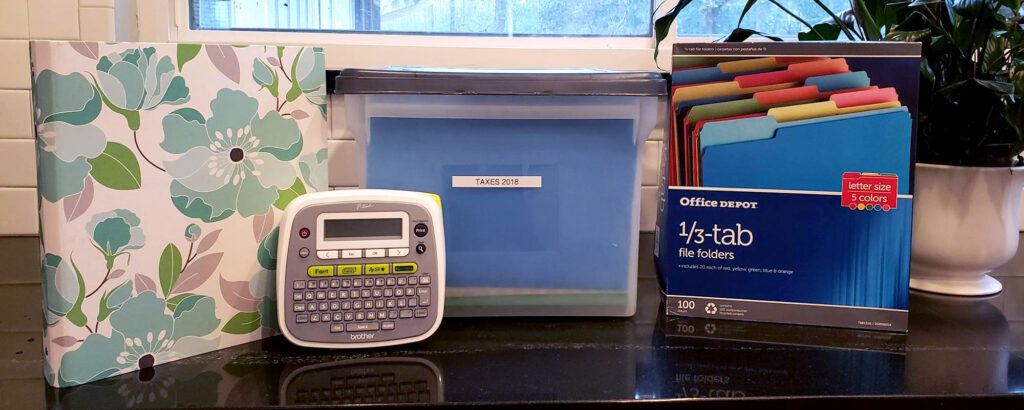 Before I get started there are a few supplies I like to get:
Box – this is the most important item as you need a place right at the beginning for paper storage. If it is backup information for 2018 taxes you can save these for 7 years. I prefer the plastic banker boxes that you can find at any of the office supply stores. My favorites have the little ridge so you can do hanging file folders inside the box.
File Folders – a box of 1/3 tab file folders for the papers I am keeping and for the new files I am making for 2019. I like to have different colors for different family members, groups or vendors. You can buy boxes of all one color or you can get a box with several different colors.
Label Maker – my favorite way to mark the files but this can slow you down.
Sharpie – for marking file folders and works just as well as the label maker.
Binder or Pocket Paper Organizer – for the paperwork that I am handing to my CPA. Included in this organizer will be the document checklist I get from the CPA as well as any signed paperwork they might need.
I hope you are at least a little more excited about cleaning out your files. You have your list of supplies – now go conquer the tax papers and get your refund earlier this year. Let me know what you think.